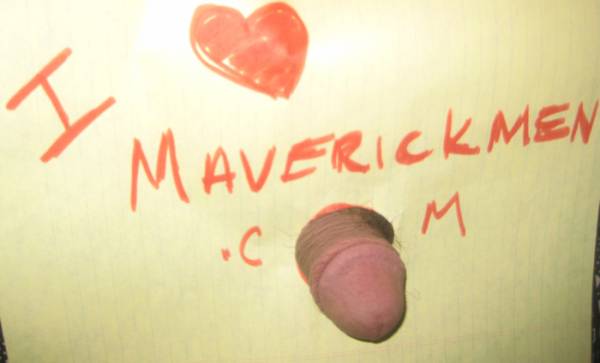 Hunter and I get so many fun hot pics and video clips from you guys showing us love that we have decided to have a creativity contest.
The big winner of our contest will receive 3 hours of viewing time on MaverickMen.com, an autographed copy of our first book, "Maverick Men: The True Story Behind the Videos", and a copy of our mega hot DVD, "Deep Woods Drilling".
You MUST be 18 or older to be on this site and you must be 18 or older to participate. Okay, here is what we would like; we want you to break out your creative artistic bone and show us in a photograph why it is that you love MaverickMen.com.
Here are a few guidelines: your submission must be made by you with your camera, do NOT add any text to the pic with your computer – all messages should be hand- written on your body.  You and your partner can make one, or just you, but get CREATIVE.  Your message can say anything you like, but it should be clear, in focus, well-lit, and have "MaverickMEN.com" somewhere in it.  The photo can be of your cock, your ass, your 6 pack, or your huge belly, lol.  The contest will run for the month of June (and into the first week of July).  The deadline for submissions is Saturday, July 9.  Good luck!  We love you guys!  Make us proud and show us how creative you can be.
Send your creativity to ColeAndHunter@MaverickMen.com.