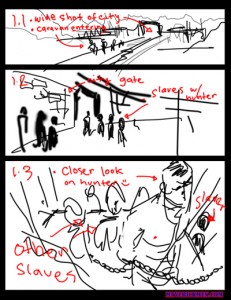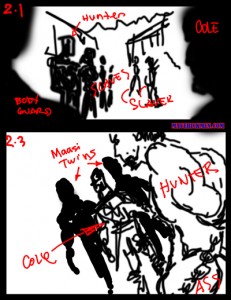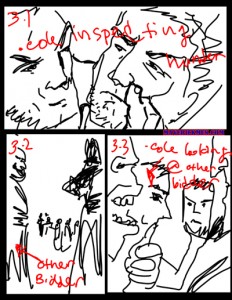 Here are the first few quick sketches from our buddy, Ro! Check out what Cole sent Ro as the first bit of art direction on our new web comic. So pumped!
Hunter
To Romir from Cole:
I love the idea of Heavy Metal, it's one of my favorite animated movies, but 300 is definitely a look that I think would be amazing for what I have in mind, BUT it should not be earth; it should be earth-like, some kind of other worldly gladiator civilization feel could work well…. a place were anything is possible…Have you seen any of the TV series Spartacus Blood and Sand? It's SOO Hot HOT! You def need to google and look at images from that series…let me describe what I wanted to create here:
I wanted to do a monthly comic strip for the MaverickMEN.com site. I would write out a scene and you would create some images based on the scene, it would be important to show the gritty raw sweaty xxx sexual feel of the story I have in my head. When we are not naked in the series, lol our physical look meaning Hunter and I, should be Roman-ish garb with short swords, shields, leather and studded armor that shows some ass and chest and maybe cock or cod piece. I'm not sure how detailed you want to get but even black and white sketching could work with some small splashes of color, the faces would definitely have to look like us. I have the entire story in my mind's eye, but I would also like to enlist the help of the fans here on MaverickMen.com. I know they will send lots of suggestions. That's a big part of it I want it to be; a fan collaboration. Here is the first story line for you to sketch from:
I was thinking the first images could be Hunter in a slave caravan from a place like Syria. I want us BOTH to have Syrian roots. It has to do with the names of the characters I have chosen; I want to model them after REAL historic ancient Syrian warrior saints that were executed for there open love of each other. I am working on a variation of these names and characters to fit into the story line. In the first drafts, Hunter's hands should be shackled behind his waist he might have been caught after some battle skirmish or something and he's brought into the city to be sold. It just happens to be where Cole lives; maybe it's a neo-Roman looking city. The guys selling Hunter and the other prisoners are obvious slavers into selling men as fighters in the arena, or as sex slaves. Cole is there looking to buy slaves to train to fight. Hunter should be sweaty, dirty almost naked maybe a loin cloth, his hot ass and muscled arms showing and Cole is eyeballing him at a distance then walks up to him to examine him, grabbing him by the chin to look into his eyes and Hunter looks back with a look of defiance. Cole smiles and walks back to where the other bidders are standing, Cole then out bids another slaver that wants Hunter. Cole has made up his mind and wants to own Hunter so he intimidates the other bidder by walking over to him with two of his men to confront the other bidder. Cole's belt should have a wicked-looking spiked ball mace, maybe the mace should have a cock shaped handle and he should have a short sword. His two men should have spears and short swords, maybe his guards/men can be very TALL black twins like the warriors of Masi tribe of Africa, or TALL Asian looking exotic men, something along those lines. Please send the first rough drafts panels ASAP.