About the Maverick Men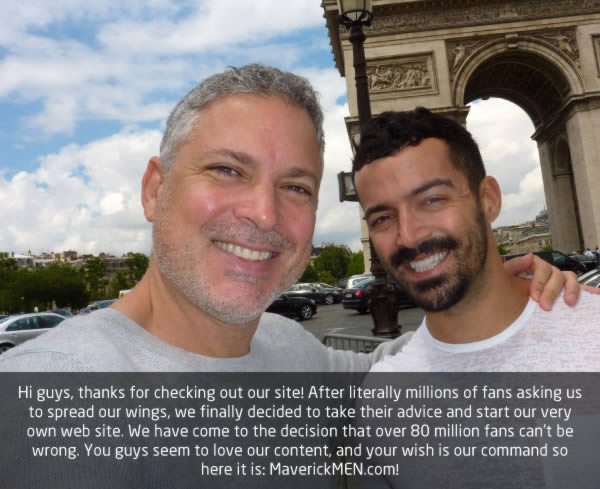 Some of you may recognize us from Xtube and MaverickMan222. And some of you may have just discovered us, so here is a little information about who we are and what we are about. Hunter and I have been in love and lust for over ten years. We love making videos of all the hot, fun times we have together. We take our camera with us everywhere and document our real-life sex-capades together and with other hot guys. We go camping, hiking, clubbing, and traveling all over the place. You name the place, and we whip out our camera and cocks and film it.
We travel all over the place and have made some great new friends. All of the guys that appear in our videos are fans that have contacted us and have since become close friends. In some cases, they continue to chill out with us and make hot videos. The flavor of our content is very consistent and real because we do all the filming and editing ourselves. We never let anyone touch our content. We know that our fans love the way we shoot and we want to stay loyal to our fans while staying true to our style. As far as the type of guys that turn us on: we love honesty and openness before anything else. Our number one big turn on is a guy that has the balls to step out in front of the camera and show his face. We usually aren't into overly fem guys, but if you are super sexy and have a kick ass body we can work it out. Mostly we love scruffy, natural, masculine guys or boyish, sweet, masculine guys that like to laugh during and after sex. A positive attitude is a must. Just know that we will be open and honest with you and expect the same in return. We go nuts for guys that love to please us in bed and have a serious appetite for wild, fun sex in crazy places. We also love to teach new guys how to have great amazing sex. We worship our bottom guys; they are our favorites. We also love love! love! top guys that watch our videos and want to try bottoming for the first time with us. Of course we love our cherry newbie boys, lol. All races, size, and age (18 and older) as long as you are tight and hot. From pocket-sized studs to towering lumberjacks, sexy comes in all shapes and sizes and we know it. We are both very masculine and skilled in the sexual arena. You should know that if you want to be with us we are both alpha male TOPS. If you want to be with us you have to be willing to bottom and submit. FYI we get tons of guys that offer to get with us OFF CAMERA. Sorry boys, but we ONLY play on camera.