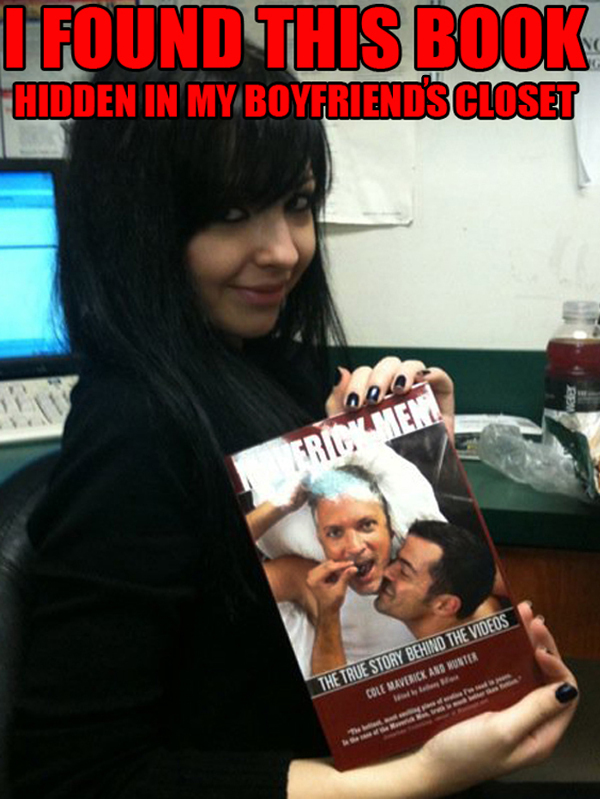 We have been getting lots of positive feed back about our book but this one takes the cake, when Hunter read this email and saw the pics he called me at work and said COLE YOU HAVE TO READ THIS EMAIL!  After reading it, I checked it out and decided we should share it with you guys.  Please show these two amazing people some love.
Dear Cole & Hunter,
I am writing you out of the blue because I want to thank you for your book.  It has changed our lives for the better.  My boyfriend of many years and I have just opened up our relationship to include others (both men and women).  We have been recently going thru some "issues in the bedroom" that I could not quite figure out and because of these issues we were growing apart.  I decided to confront him in a nice way and he just shrugged it off and told me it was nothing and we would work it out.  Well as a curious girl, I decided to take matters in my own hand; I decided to snoop into his secret spots that he thought I didn't know about.  He's a typical guy and thinks he can keep secrets from us girls.  After snooping a bit what did I find but YOUR BOOK!  Needless to say I was pretty much blown away that he had read it to the point it was worn out and dog-eared.  I decided to bite my tongue and get out of his personal hiding spot before he got home.  I wrote the book name down and order my own copy on line.  After read it, I must confess it was pretty sexually shocking (in a good way) it also brought me to your website where I learned more about you and Hunter.  I instantly fell in love with you both, but that's another story.  I was at a loss as to what to do about my obviously gay or bi boyfriend.  I asked my best friend and she said "DUMP HIM" but I love him way too much.  He was the first man I made love with and the best man I know.  I decided to give him a present; it was a fresh non dog-eared copy of your book with a card telling him that I love him and I am willing to try to make this work because I think love is love.  The love we have for each other should over ride everything, right?  Much to my surprise he was honest and blunt and told me he was still in love with me but wanted to be with men and me in the same bed.  At first I was VERY hesitant then, I had to face facts; I secretly lusted after women and had been in love with a friend for years and never told her.  So we came to an understanding and we have rules of engagement, as do you and Hunter, and so far it's been amazing.  We love each other more than ever and our sex life has been crazy!  Our first 3-way was with my girl friend, and we recently had a guy together.  I can't express how hot and fun our lust life is and how crazy hot our love life it. Please post these pics of me and my love on your site, we have a LOT to thank you guys for.
PS My guy wanted me to ask you if you and Hunter would be into a video with us.  What do you boys think?
XO we love you guys and thanks for saving our relationship!
J&E
Click here to get your copy of our book on Amazon.