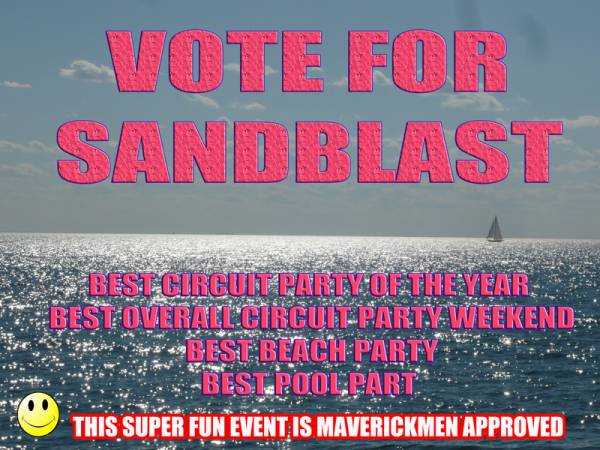 Hey boys and girls, we are scheduled to appear again at SAND BLAST WEEKEND in Asbury Park on the Jersey shore July 20th weekend and we are mega psyched!  You'll remember from our last posts (click here and HERE to view) that we had an insanely fun time with the sand, sun, and all the sexy sweaty studs bouncing around that weekend.
With all the traveling we do, we still haven't seen a party like SAND BLAST: tons (quite literally thousands) of very hot, scantly-clad, no-attitude men all sweatin' and sexin' in the sun.  I can't wait to go back!!!
Please take a second to help get SAND BLAST WEEKEND nominated for all the accolades it deserves.
And if you do, we might just have a pair of tickets for you. – Hunter
Please click HERE and nominate SAND BLAST WEEKEND for ONE OR MORE OF THESE:
BEST CIRCUIT PARTY OF THE YEAR
BEST OVERALL CIRCUIT PARTY WEEKEND
BEST BEACH PARTY – SAND BLAST w/ Joe Gauthreaux
BEST POOL PARTY – RIPTIDE w/ Roland Belmares
BEST DJ PODCAST – COREY CRAIG: LOST AT SEA PARTY / SAND BLAST
BEST DJ PODCAST – JOE GAUTHREAUX: SAND BLAST BEACH PARTY
BEST DJ PODCAST – ROLAND BELMARES: RIPTIDE POOL PARTY