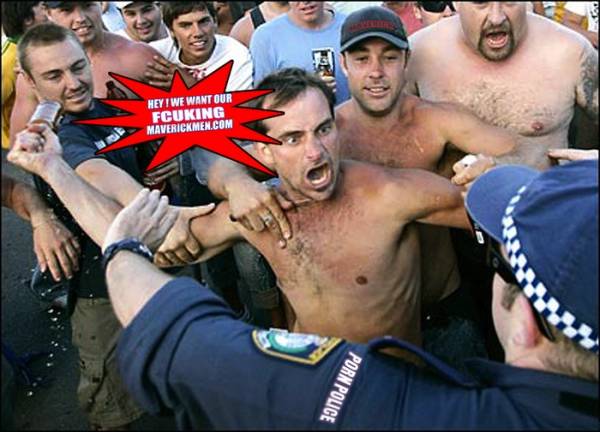 View The Full Post
When we think of how dedicated some of our awesome fans are, we always think of our buddy Cooper and his visit with us in Cape Cod and how fun and hot that summer was.  Cooper started off as a fan, emailing us back and forth back in the day when we were only on Xube under Maverickman222.  That's why you'll see "Maverickman222″ on his ass and not MaverickMEN.com.  After months of back and forth, Cooper decided he wanted to come do a video and much to our surprise he loved it so much that he decided to pursue a career in Adult Entertainment!  The few videos we did with him are still some of my all time hot hot favs.
View The Full Post
Check out the hotties we met at the Black Party Expo in NYC a few years ago. Do you recognize anyone?
View The Full Post
Two On Sean is one of the hottest videos we have done this year because this insatiable hot 20 year old boy is so so cute, with his Canadian accent, huge sparkling blue eyes, tight little body fat uncut cock and furry little round bubble VIRGIN ass (Hunter was in hog heaven). He is a ten in our book! He has been a fan for a while and had written to us many many times proclaiming his love and lust for us haha. He has been sexually active since he was 18 has only done oral and topped some local boys and he never bottomed before us; and it showed. His ass was SOOO TIGHT! We definitely could tell his was truly a virgin ass. This is what he said in one message to us, "Hey Cole and Hunter, I am saving my virgin ass just for MaverickMan domination!" Needless to say, we were very flattered because as you all know, we love a nice ass but we do love it even more when a top lets us teach him how to bottom. We greatly appreciate it when a little hottie like Sean gives us the privilege of popping his butt cherry. In this video, we meet up and take him to the gym where Hunter trains him how to work out, and then we train him how to bottom. This is a seriously hot vid with us exploring his hot hard body, eating his sweet cherry ass hole (again, Hunter was in heaven!), licking his pre cum of his fat uncut cock, and eventually teaching him how to suck cock and bottom. You will love this hot fuck session. Show Sean some love by leaving him a message under his video since he is on the MaverickMEN.com site all the time and reads all the comments.
Xo Cole and Hunter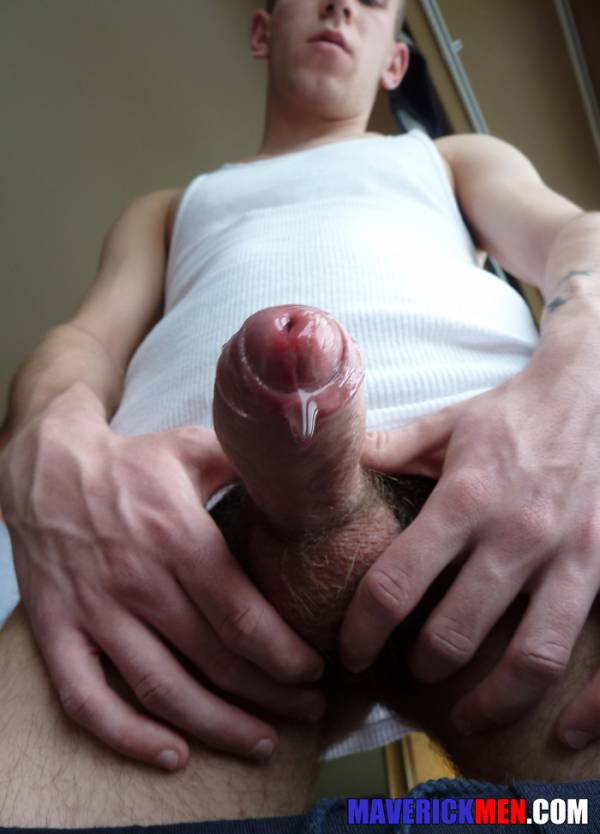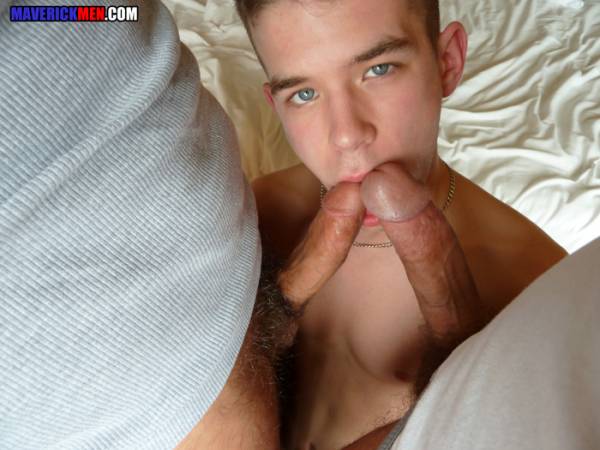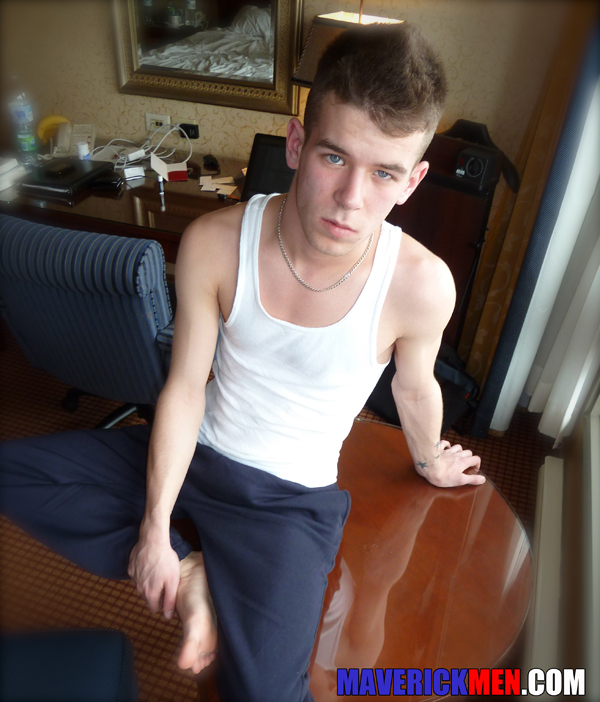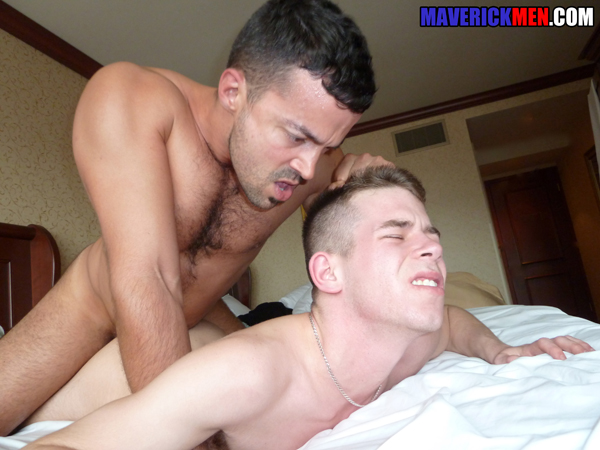 View The Full Post
Yes, we do love our fans, especially the crazy FUN Hotties like this boy that take the time to be creative and show us love XOXO
Thanks for the cute, sexy, fun and hot video!
xoxoxo Cole and Hunter
View The Full Post
Hey Guys-
Here's a great video for you from last year when we went to meet our "SUPER FAN" Aiden in NYC.  We timed it so we could be there for PRIDE and we had a serious blast.  We were there for three days and on the first day Aden came to welcome us to NYC. We met him in the lobby of the hotel and when we walked up to him he was so so cute and sweet he brought us flowers!  This sweetheart could possibly be our number one fan given all that he knew about us.  This 20-year old half Egyptian and half Latino hottie had been emailing us since he was 18.  His big thing was that he had been saving his ass cherry just for us.  He is 20 now and has always been a top and LOVES to top but wanted us to be his first to fuck his sweet ass.  So yes, this is a "Virgin Cherry POP VIDEO."  Aiden is the quintessential beautiful boy: smart, funny, goofy, playful, cuddly and very sexy.  He was just like a big cute puppy wanting to please us.  We started out with exploring his body, stripping him down and tasting that huge cock.  Then we slowly worked our way into face fucking him.  He was eager to please us and it showed.  He got right into deep throating us and eating our asses.  Then we took over and decided to get down to business and pop his cherry.  He was LOUD and HOT during penetration and it took LOTS of lube.  Once he started enjoying it, we fucked all over the room even (in the window).  Let us know what you think and show some love for our bud Aiden.
Thanks for stroking with us,
Cole and Hunter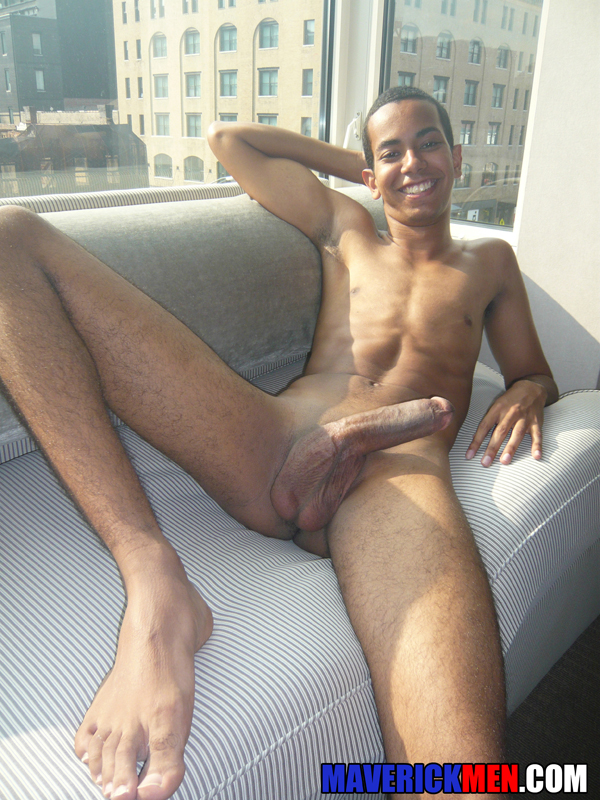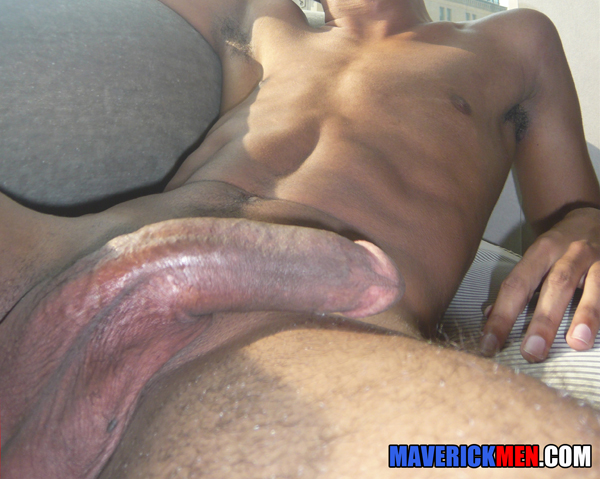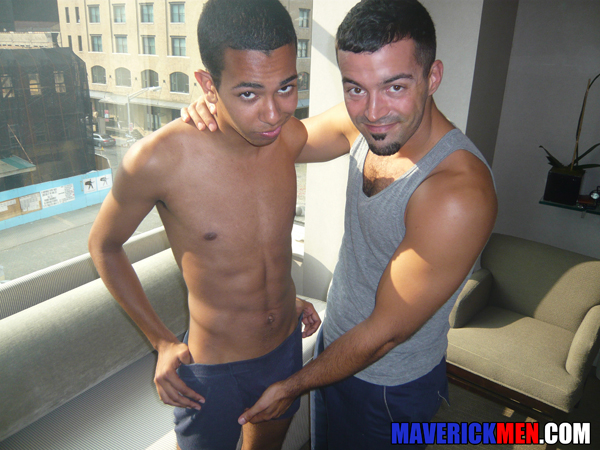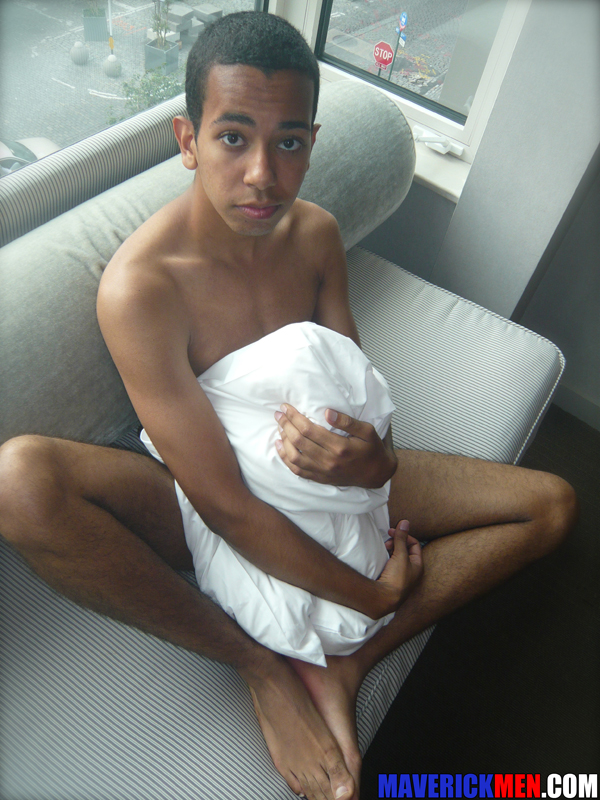 View The Full Post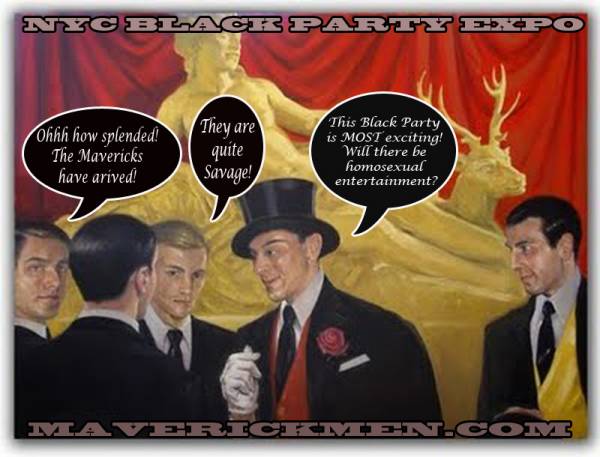 View The Full Post
Hey guys, I thought a psychology of sex video was over due so I did one on FETISH GEAR since we will be at the Black Party Expo this weekend in NYC.  I am not big into gear and all that stuff but Hunter and I are always open to experimentation.  I have dabbled in bondage and think its fun; I love the control thing and taking charge.  Hunter has picked up on that and loves it, too.  But as far as gear, we like jock straps, athletic gear and construction and motorcycle boots, but that's about it.  I love to encourage Hunter to try new things, gear, clothes, or anything hot that I think he might have an interest in.  He loves sneakers and workout stuff like that so when a friend offered to come demonstrate and give us some of his stuff to wear and give us a show I said, sure!  We had been talking to this hottie on line for a year.  He is into all kinds of gear and outfits.  He came over with his big, black bag of tricks, lol.  He dressed Hunter in some sexy tight things and we had some laughs.  This sexy HUNG boy loves his gear from hoods to cock rings and boots.  We had some fun playing dress-up and when he saw us in the gear he got rock hard.  I spotted his huge bulge and he turned ten shades of red and shyly asked if he could jerk off while I felt him up.  I said sure, so long as we can film it.  Much to our surprise, he said yes! All in all, it was a fun hot afternoon and we are now great friends with this gear head and he will be meeting us at the Black Party Expo to chill out.  We hope some of you guys will be able to make it.  If you can, please come say hi.  We will be hanging around the ManHunt Booth for some fun.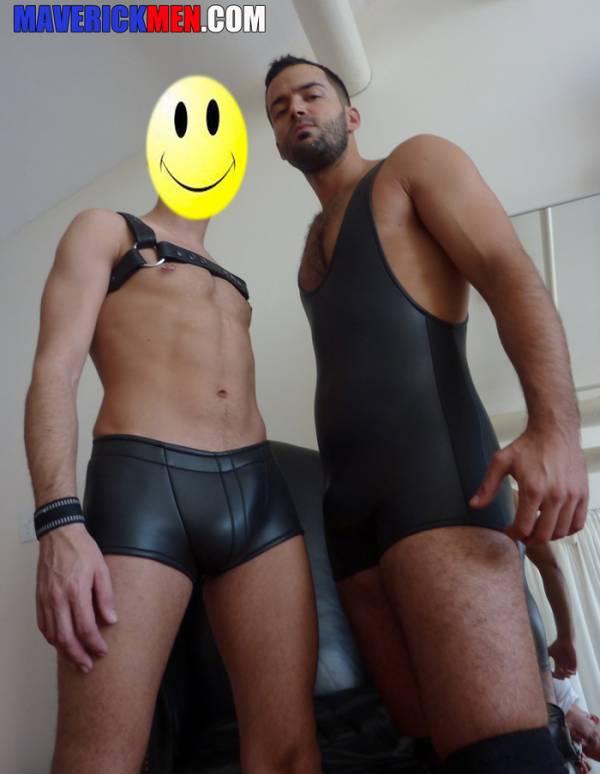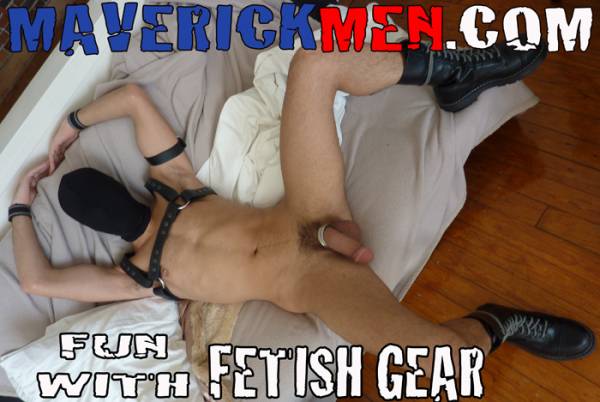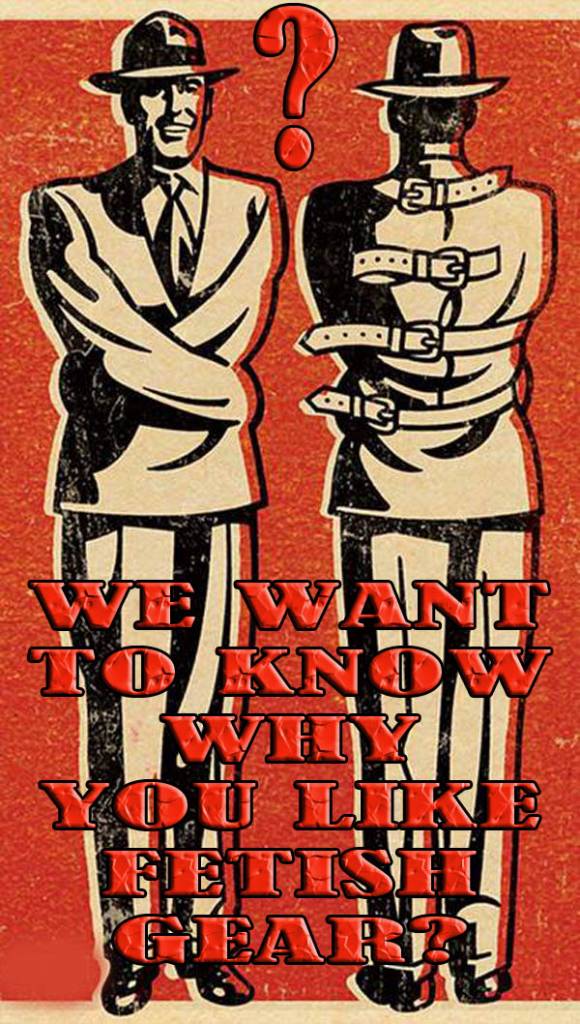 View The Full Post