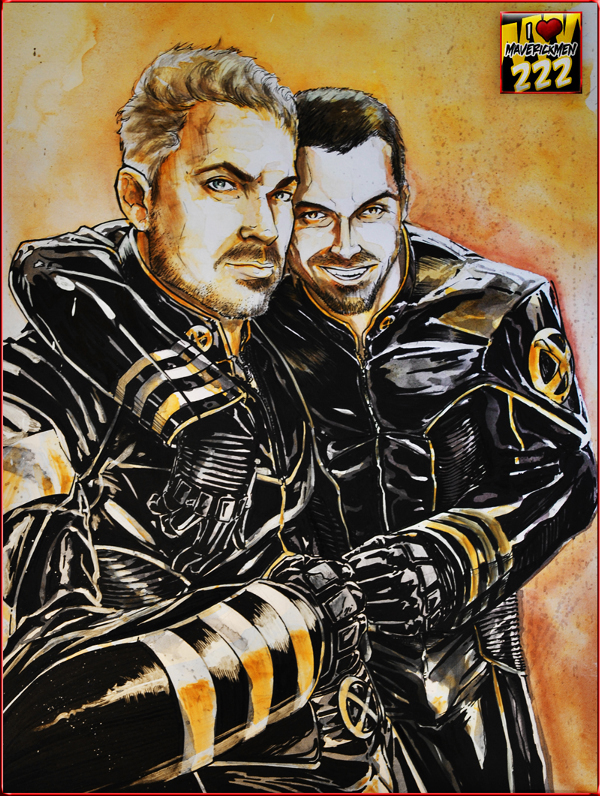 This is a creation made for us by a very special fan. Hunter and I developed a great on line friendship with him, he is an AMAZINGLY talented artist as you can see, but at the same time, he's an even more amazing person. Hunter and I truly hope he finds the lover/wife/or wherever he desires. Based on our extensive emails back and forth with him over a very long period, I can say with out hesitation individuals of this caliber don't pop up very often, so whoever lands this guy will be lucky indeed.  Hunter is especially pumped because I finally get to make my gladiator web comic with this guy (see message below).  What do you guys think? 

Here is a brief back and forth regarding the awesome image he created for us.
From Cole:
WOW is all I can say!  WOW!
WE LOVE IT!  So amazing!  You did a beautiful job and it was well worth the wait!!! I want to make it a blog post on maverickMEN.com, would u like me to leave you as anonymous, or would u like us to put your web address to your work?  It's your call, I know you are not out so I want to do what works best for you.  Did I mention that I just love it.  You are exactly who we were looking for.  We need some sketches and or renderings of classic gladiator men with our faces in action.  If u are into that, we would love to collaborate with you.  We are planning on creating a web comic strip series of XXX-rated, gladiator style stories based on some stories I have written for Hunter.  We want to post them on the site, with updates about once a month.  It will be about two gladiators, HUNTER and COLE – variations on the names, one older and one younger, that meet in the arena and fall in love.  Basically it's about their adventures and all their hot sex with slaves and other gladiators, basically.  I have the stories all out-lined, I just need someone to draw it.  It could be charcoal, black and white, or whatever; something simple.  If you have any ideas or sketches, I would love to see what you have in mind, or even if you are at all interested.
xoxox
Cole and Hunter
From our new friend:
Yes please do the feature, and nah, don't keep me anonymous… I'll just think of that as little steps of coming out. Hehe. I love the account you set up for me, I love my username and password, brilliant! Hahaha
Well The 'maverickmen-fan.deviantart' account is actually were I want to put all my homoerotic art… I've done several but I haven't yet posted… I've been wanting to draw or make homo erotic comics for the longest time, so I'm actually excited about this plan of yours to make yourself into Gladiators and make animations or web comics. Sure sure SURE! Of course I'd be willing to lend a hand.
Send in head shots of you guys, different expressions and angles for references… well I do watch you a lot but I can't claim I can draw perfect look a likes of you guys in a snap. I'll work on your request asap.