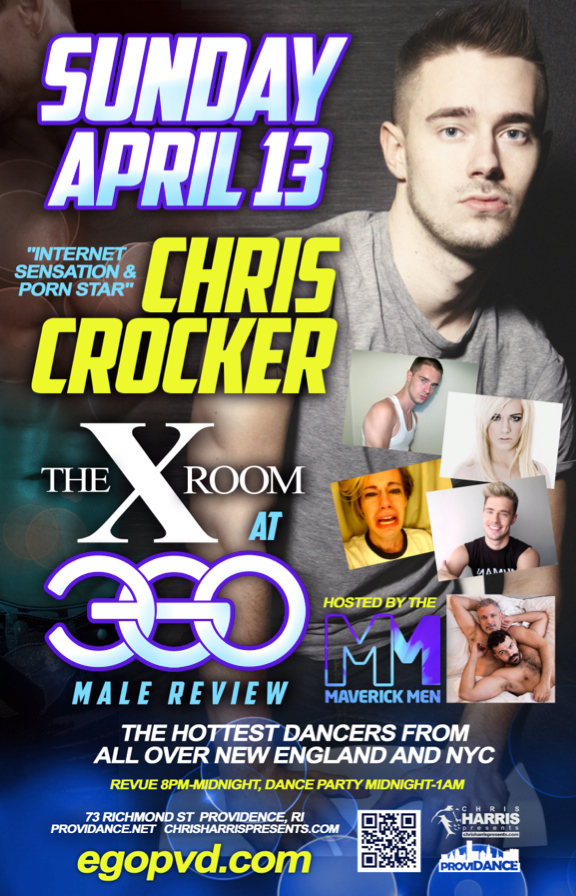 View The Full Post
WOOF! Woofity! Wuuuuf! You asked for it and you got it; more vids featuring horse-hung hottie, PJ! Yes, our sexy blue-eyed beauty with the big thick monster cock is back in all his glory. Last year, I posted a few images from this particular video on my Tumblr and on our site here just to see what you all thought. Much to my surprise those images have been re-tumbled and circulated many hundreds of times so I guess you guys must have loved them, lol. You're in for a serious treat because this is the video that those pictures were taken from! Not only does this super sweaty hot ass fuck video have beautifully-clear ass penetration footage, it has some of the funniest and hottest facial cum shots we have shot to date. This particular video is beautifully lit with natural sunlight so you can see all the delicious nooks and crannies on PJ's beautiful blond furry ass and amazing thick monster cock. We always love spending time with PJ but we REALLY loved shooting this particular video with him. We just click with PJ in general and when we get together with him our sexual chemistry is undeniable and it shines through every time we chill with him. He is truly a naturally sexy authentic Maverick Man!
xoxo Cole and Hunter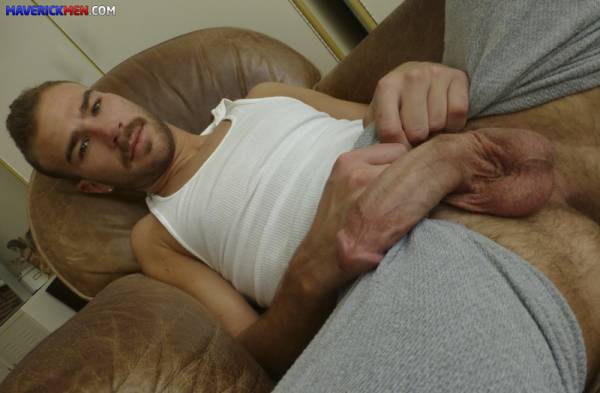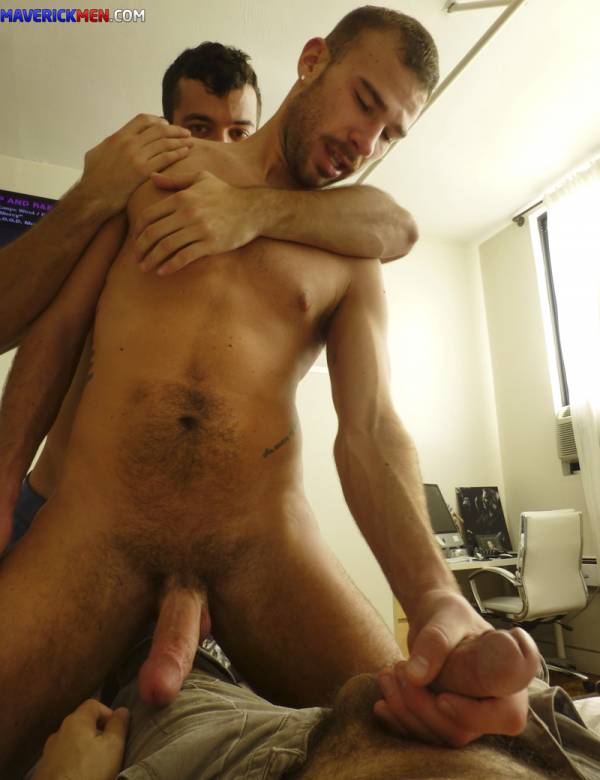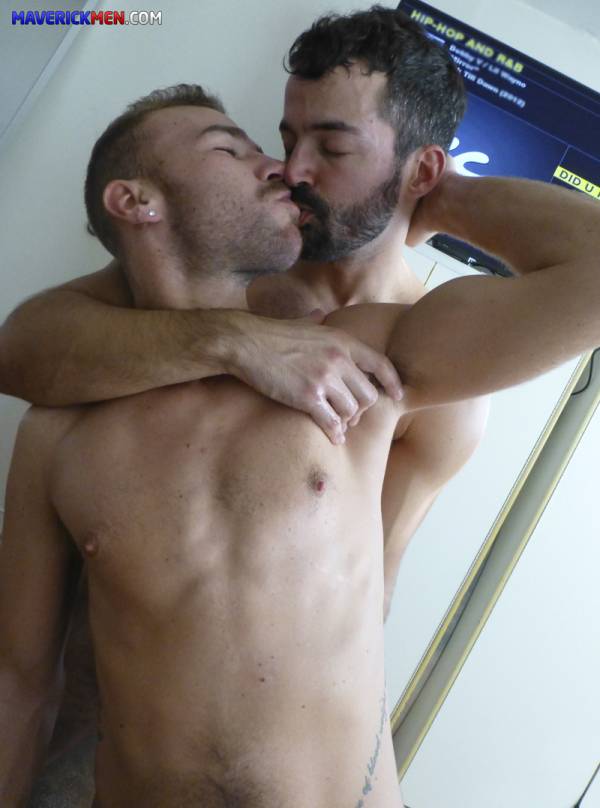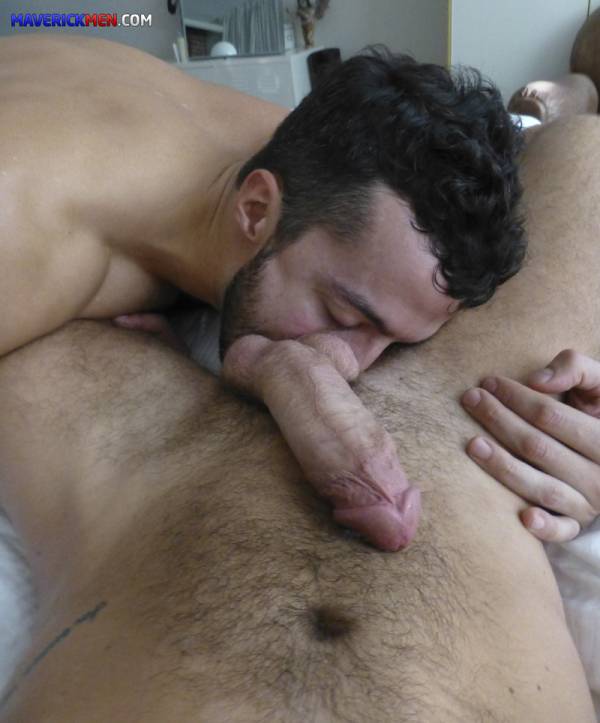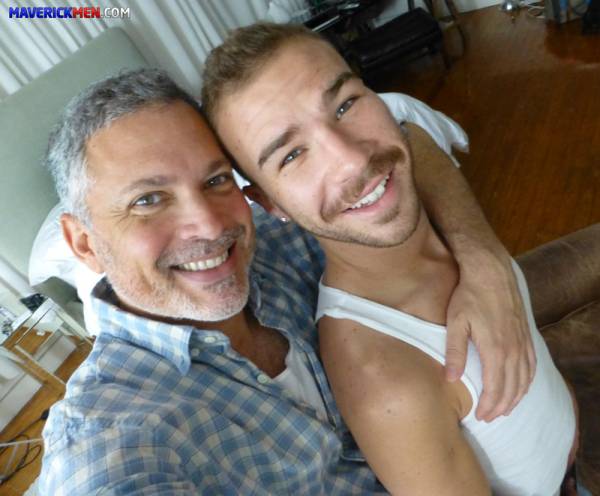 View The Full Post
FREEBIE VIDEO ALERT!
Remember our hot redneck bud, Nate? Well, I was looking thru my video footage and discovered this never-before seen fun oral session we had during that weekend. As a general rule, I'm not a fan of morning sex, but when Hunter and I woke up to this sexy red neck sucking our cocks under the sheets, how could we say no?! We don't fuck in this vid, but man did we had a great time taking care of our morning woods. Nate was a horny boy begging for our loads so we both face fucked him and made him eat our asses and then we both jerked-off two big hot sticky loads into his hungry mouth. This is a freebie video because WE LOVE YOU GUYS! If you want to see our other full-on ass fucking video with Nate called, I'm Straight, Butt Fuck Me Anyway, click here. And thanks for stroking with us!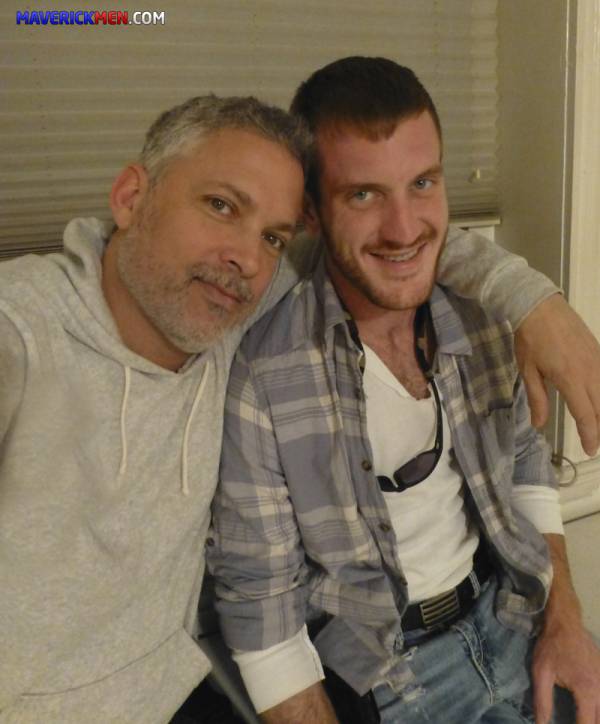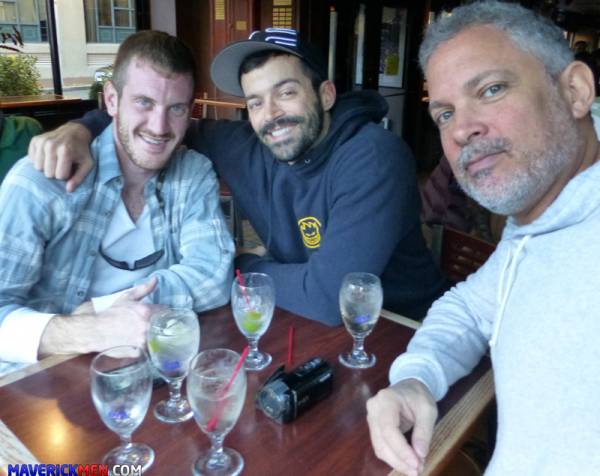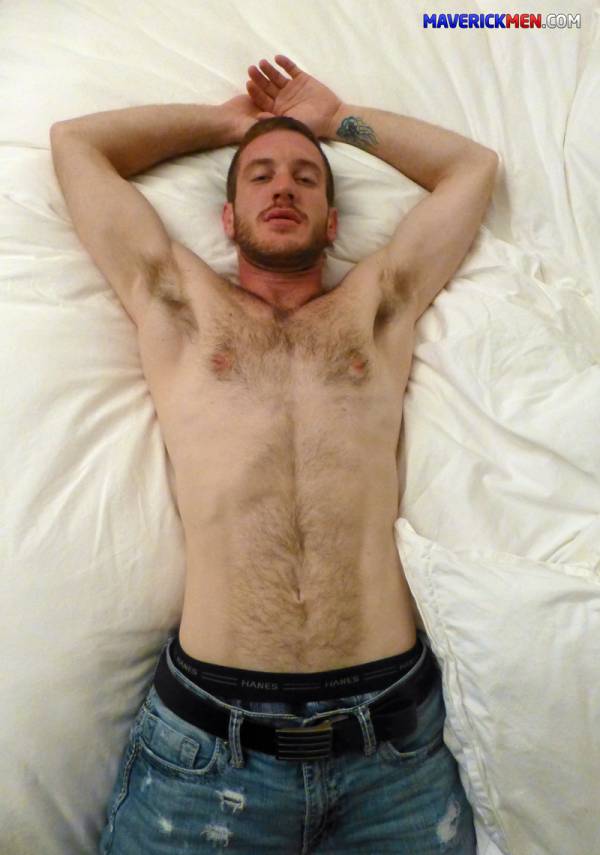 View The Full Post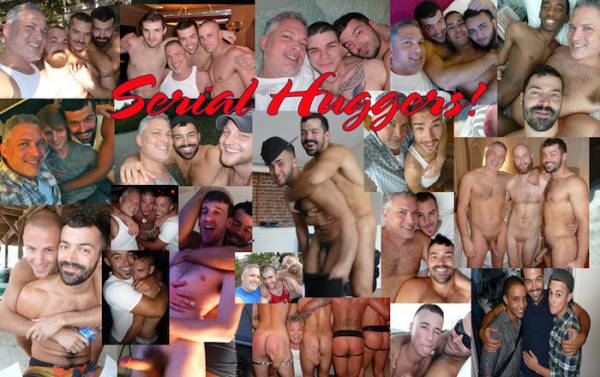 Hunter and I were just saying how much we love hugging, especially each other. It's something we do ALL the time, every day and every night. We do it because it helps us to feel closer to each other and even more loved. Hugging is simple and you may not put much thought into it, but it has a major impact on your health, both mentally and physically. Hugs have been shown to reduce heart attack rates, lower stress levels, lower blood pressure, increase nerve activity, and a host of other beneficial effects. Case in point: Hunter and I have noticed that when we big-welcome-hug a guy that's come to our place to do a video, we can feel his stress and nervousness melt away in our arms. Their comfort levels are increased and they enjoy being around us even more. That initial hug can set the tone for the entire visit. From one hug we can usually tell if the video will be hot, or not.
Hugs are very revealing and they communicate many things to many people. A hug from a friend or family member can bring back happy memories and lets the hugee relive and FEEL those awesome moments. A hug creates feelings of acceptance and compassion that can sometimes be difficult to express thru conversation. Our skin is made up of many nerve fibers that spring into action when we are cuddled, stroked or gently touched. Hugging also boosts your immune system. Yup, that's right; mild stimulation and light pressure on the sternum regulates your body's production of white blood cells and in turn releases serotonin to help you get happier and less bitchy. Make hugging part of your daily diet! Remember, the longer you hold the hug, the greater the effect. Maybe even try the MaverickMen Hug: when you lift your shirts and press your bare tummies together as you hug. Or better yet, do it naked. But for fuck's sake; just do it! Hug at least one person a day (you'll be getting yours in, too).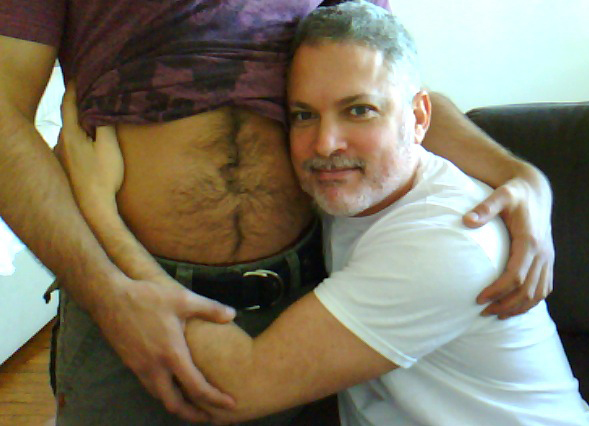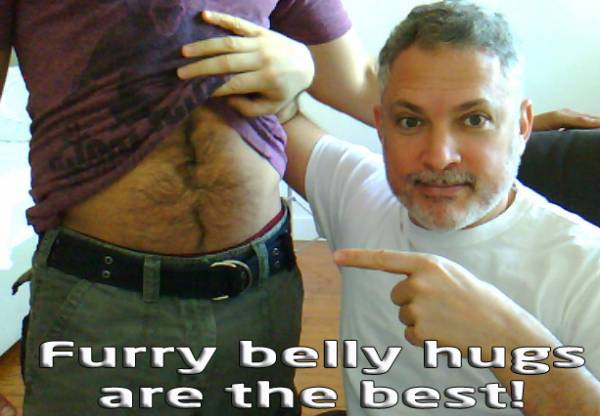 View The Full Post
Recently we've been getting hit up by a lot of bisexual/gay-curious guys in need of training (and we ain't complaining!!). This month alone we've had three super cute sexy boys that identify as bisexual. It's been WAY too much fun! This guy Anthony was actually sent to us by his girlfriend. Apparently she's a big a fan of our site. I mean honestly; you can't make this shit up, lol. Anthony tells us that his girl is kinky and fun and has fingered him as he's fucked her, and then they progressed to dildo play. Anthony's girl is so cool, in fact, that she loaned him to us so long as we paid for his airfare and then sent him back with an autographed copy of our book for her. I think it was a great bargain! When Anthony first got here, he was nervous as hell and shakeing like a leaf (so cute!). After chatting for a while, he felt very comfortable and that's when the fun started. We trained him how to use a dildo in the shower to make sure his ass was ready for cock. When we first showed him the dildo his eyes bugged out and he said, "Wait, what?! I can't get that thing in my ass! Look how big it is! My asshole is only the size of a penny.? I burst out laughing and had to snap a pic of his expression while holding up the dildo. After the initial shock and some time in the shower, his little penny butt hole was ready for action! One of the best things about this video was watching Anthony's response to kissing a guy. Priceless! I know that Anthony and his gf will be reading this, so leave the boy some love! Come back again soon, Anthony!
xoxo Cole and Hunter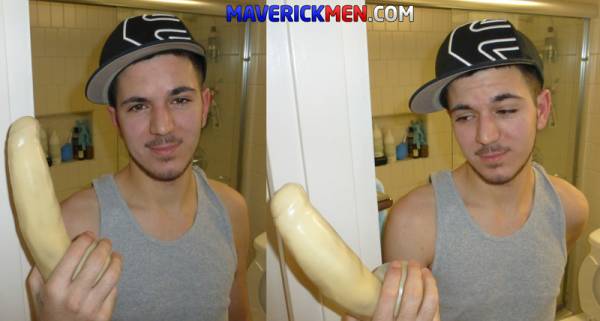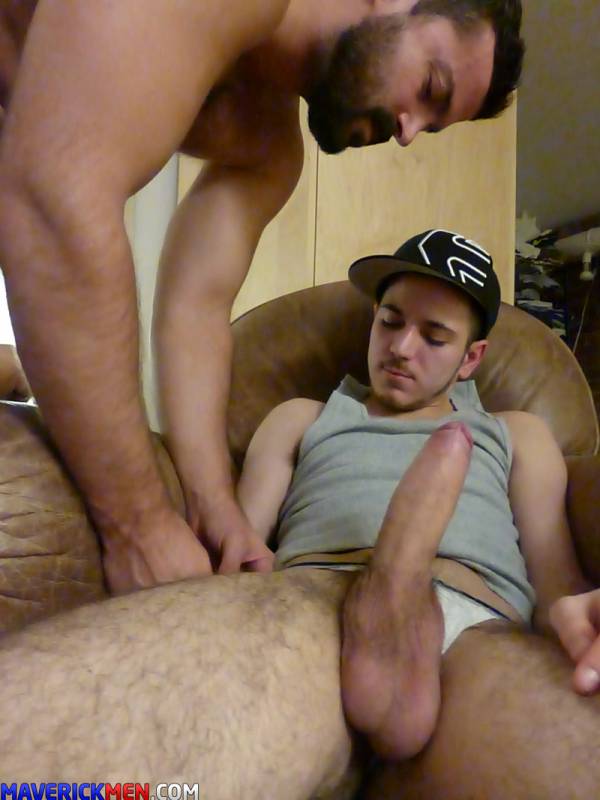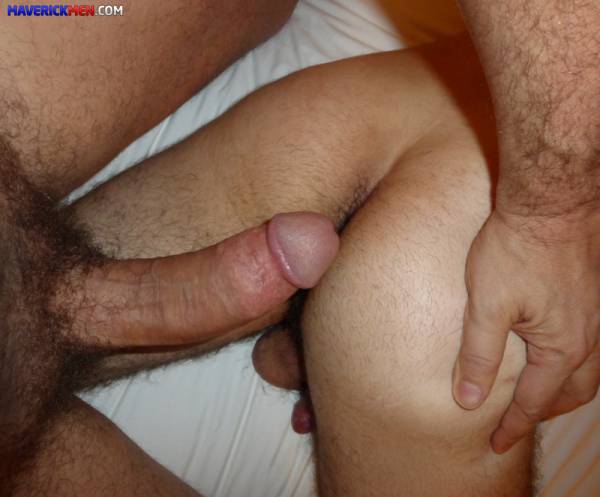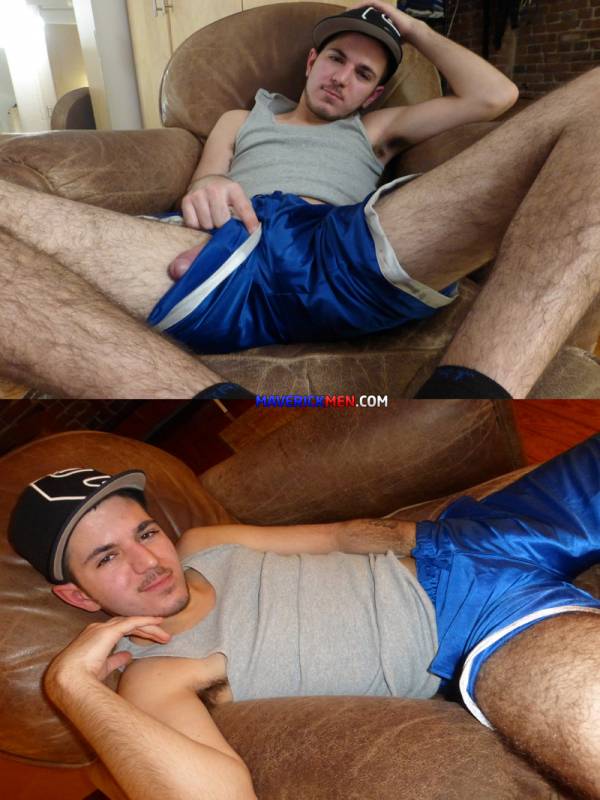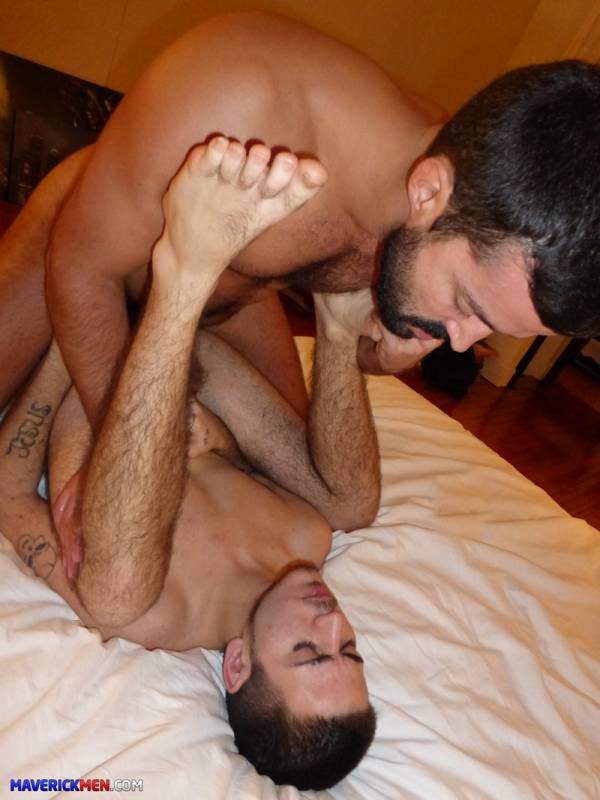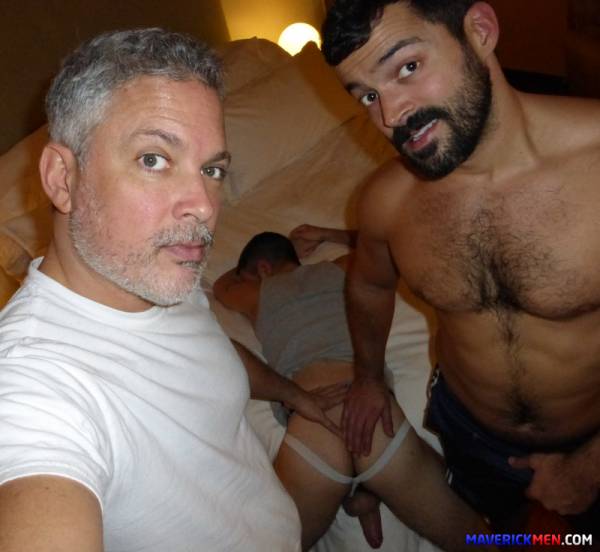 View The Full Post
We LOVE Gio!! And I know a lot of you do, too. In case you missed Gio's vids with us: click here for Training Gio and click here for Hard Love: a teenage tail.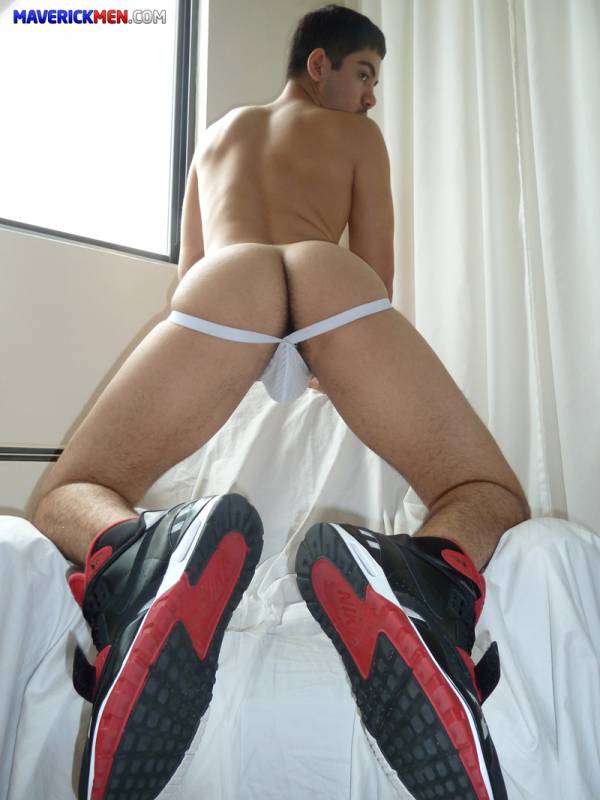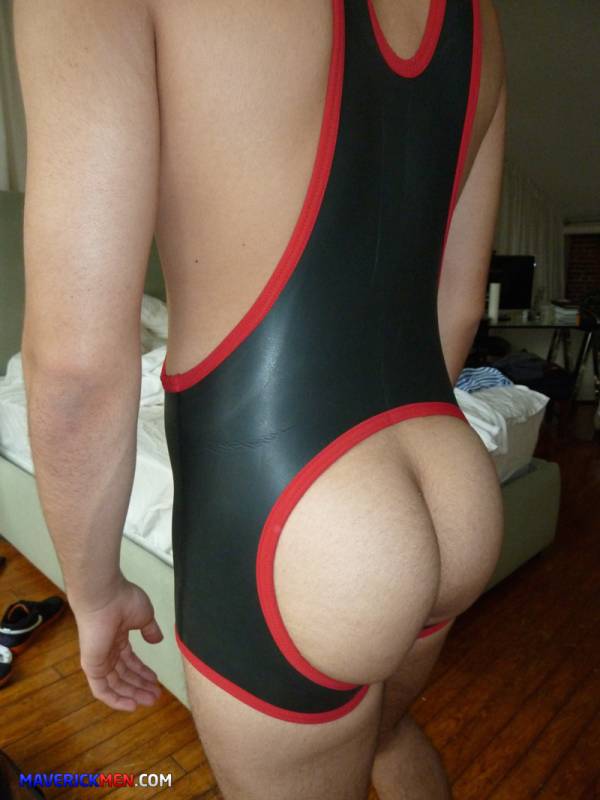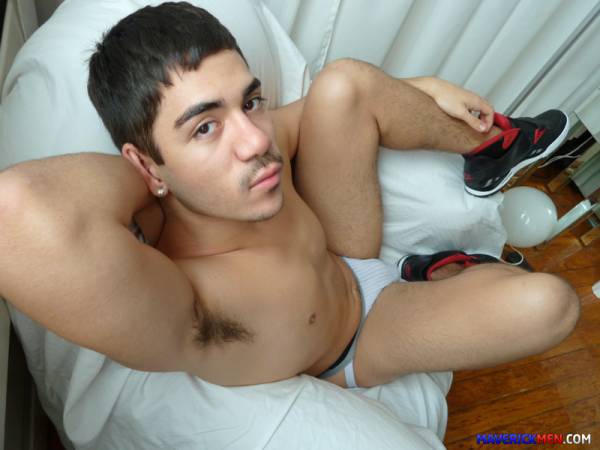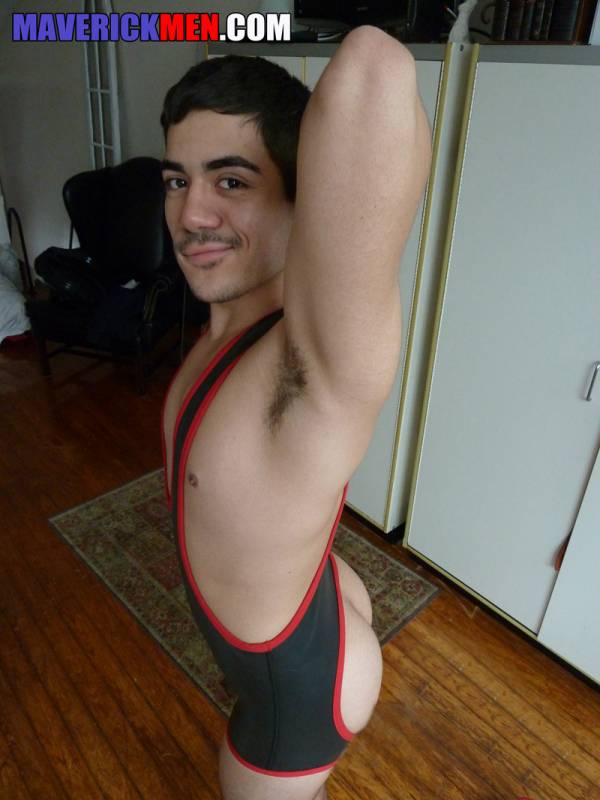 View The Full Post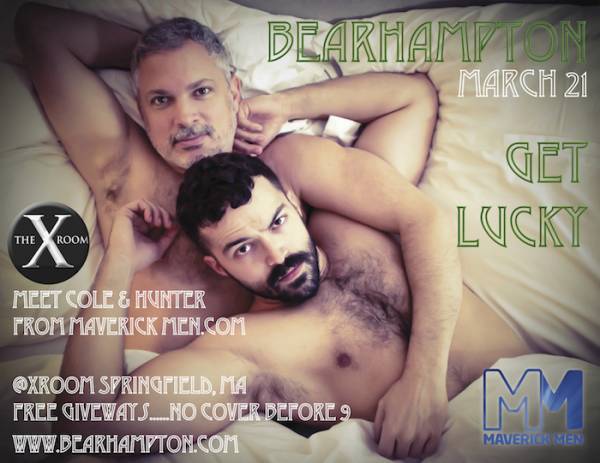 Beers!! Bears!! Strippers!! And Cole and Hunter at The X Room in Northampton, need we say more!? Cum join us on Friday, March 21 for some crazy-fun shenanigans! And yes; we'll bring some free MaverickMen.com jock straps. See you there! GRRRRRR!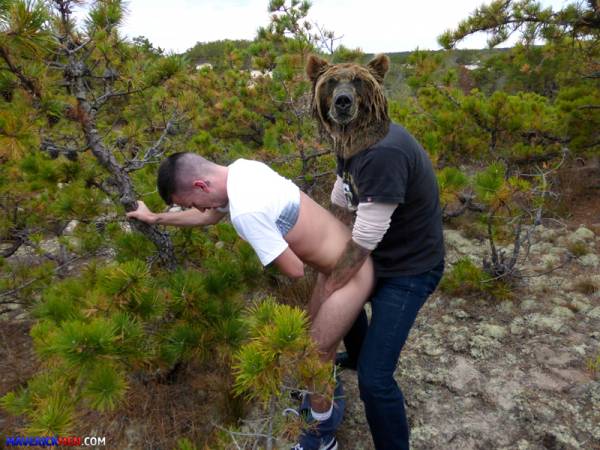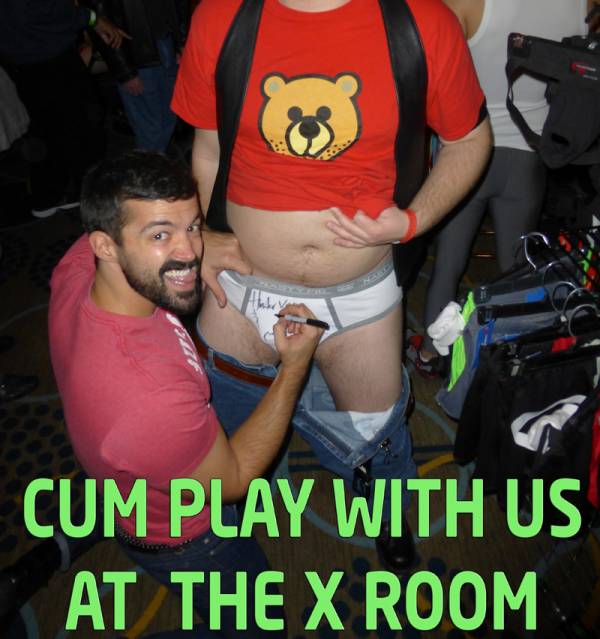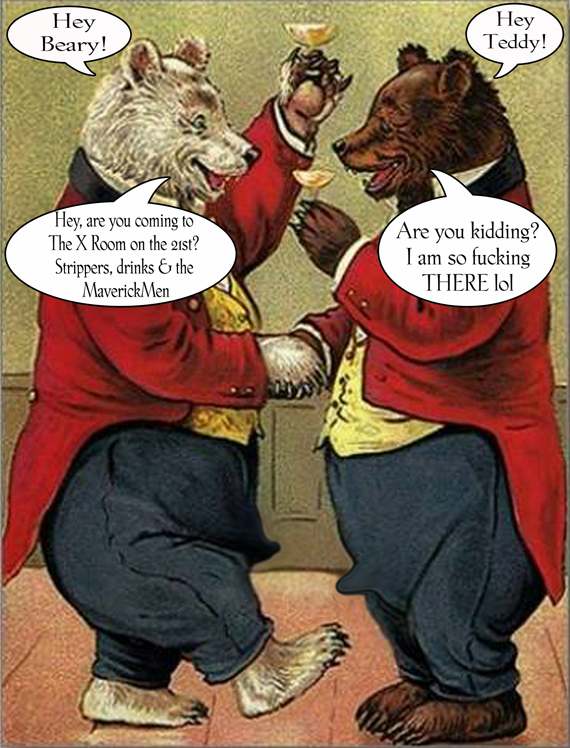 View The Full Post
I'm surprised that we still get pics from guys that shave their asses, lol. We've been praising hairy man ass forever! Well, and munching on hairy man ass forever so YES; we do prefer hairy crack, hairy buns, bushy furry, MAN ASS! Hairy is hot to us because we are GAY and we like maleness. Hairy-bodied men turns us on, so NO; don't shave that amazing male ass! Well, unless you want to appear to have a female's ass (and don't get me wrong a female ass is a great thing; it's just not for us). So, bring on the hair; busy-thick or slightly hairy – fuzzy bums are awesome. We would love to hear what you have to say. What do you prefer? Hairy or hairless? And yes feel free to send some hairy ass pics but please make them custom pics with a hand written note in the pic (like the ones below).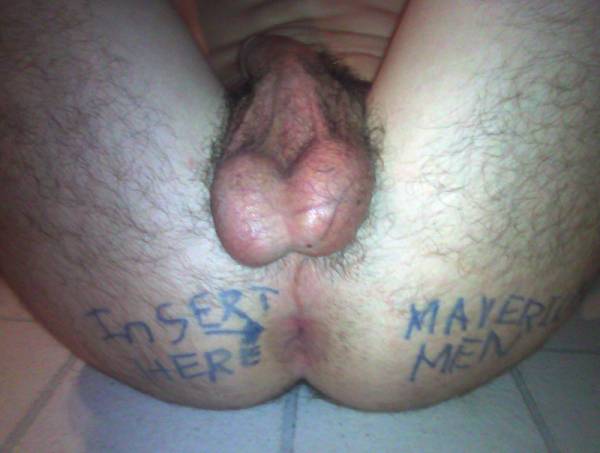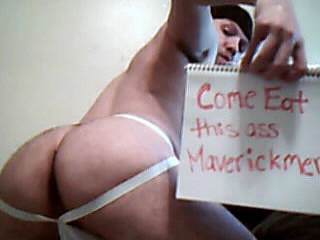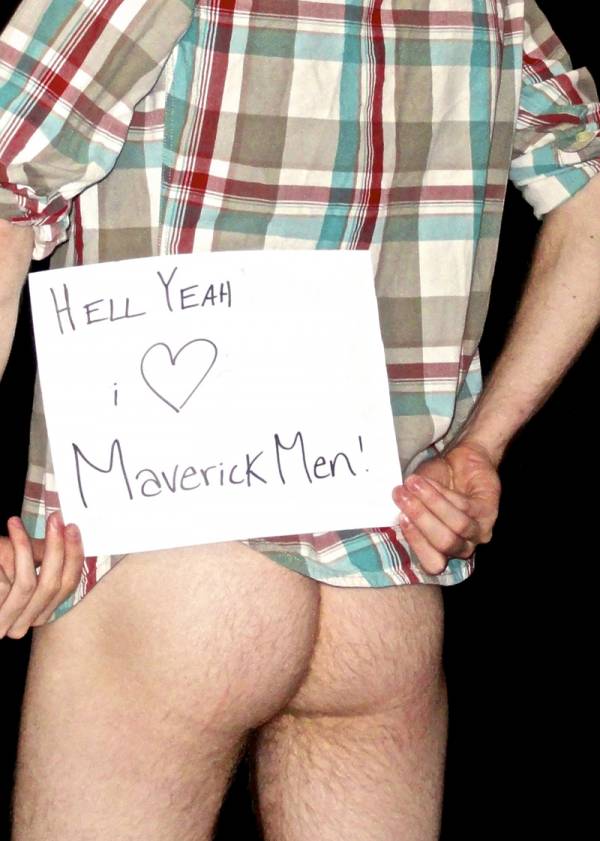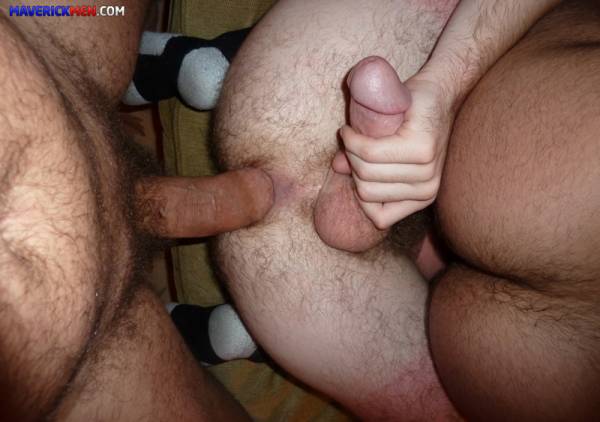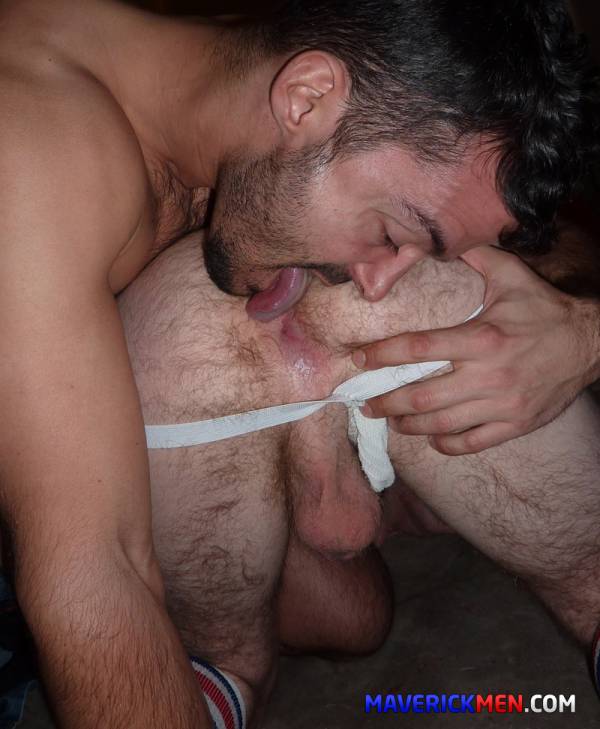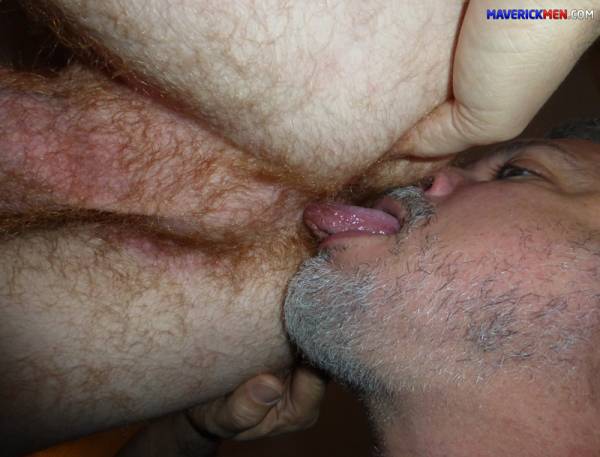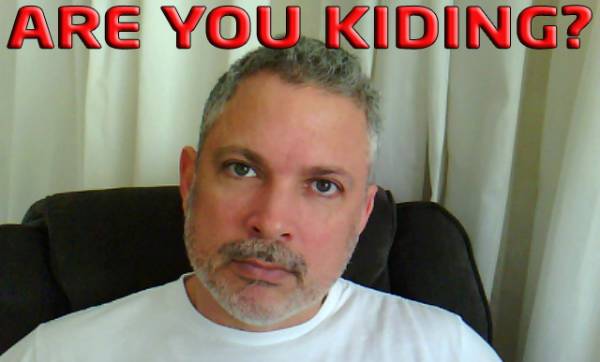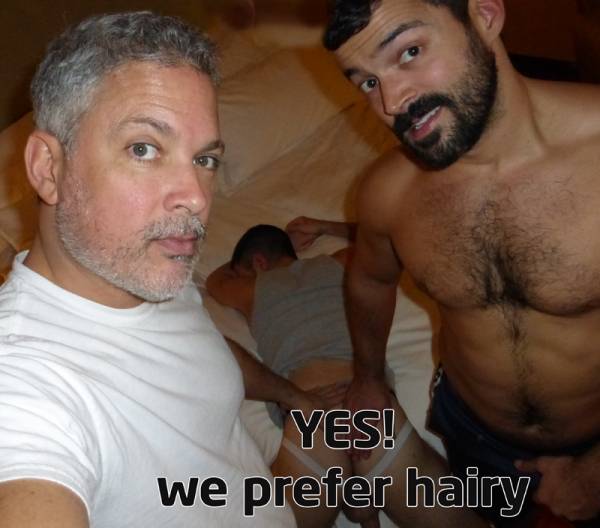 View The Full Post